Many years ago I bought some of the American Girl diner stuff when they were closing out their miniatures.   I bought the booths and tables, the phone, the signs, and napkin holders, the lights and the window.  I found the juke box at a Walgreens several years ago.  I bought the counter, stools (which I painted to match the booths) and juke box things on the tables pretty recently.  I finally got around to actually working on this project.  I made the room to fit into one of the football helmet display cases.  I made the room out of foamcore and my husband cut a base for it and he made the lights work (and the fan actually turns), which for me is a BIG deal because I don't do electricity.  My husband also made the back counter where the food preparation takes place, and the ice cream counter.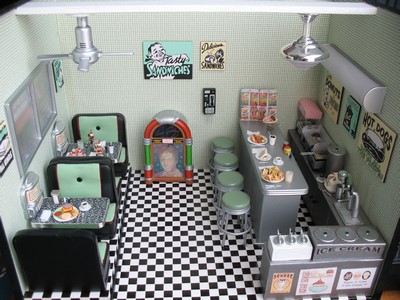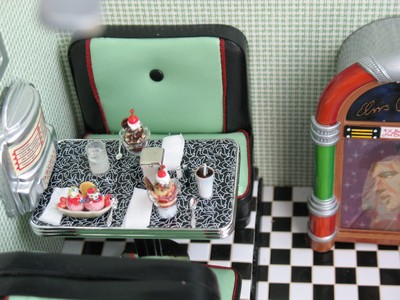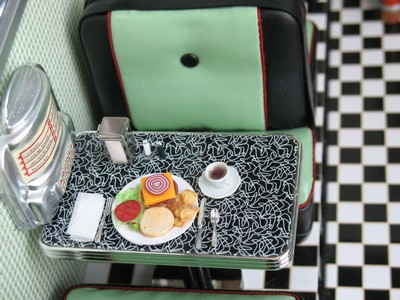 I had collected all the food and drinks and just drug them all out to fill up the diner.  I made the salt and pepper shakers on the tables and the counter using silver beads on top of the tall white and black beads.  I think they are so CUTE!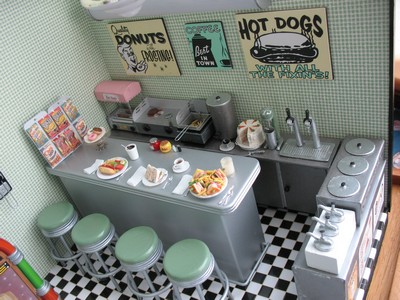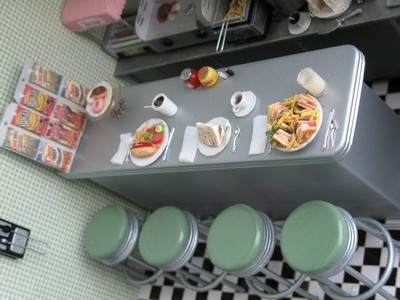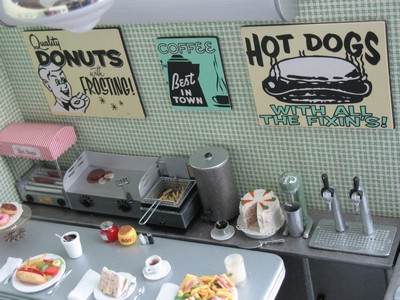 I made the coffee pot on the food prep counter using a dowel rod, and an extra ice cream lid that I had.  The nozzle is from a plastic sales tag thingee that I painted.  The hot dog maker, the grill, the fry basket and the chip bags were kits that I found at our October show.  They were perfect for my diner and this was the reason I actually started working on my diner.  I made the French fries and used Scenic Water for the grease.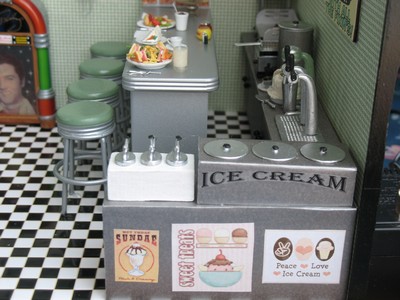 I bought the metal shake mixer, the soda dispensers, the ice cream lids and the topping dispensers at the museum because a lady had brought a lot of these in for the shop to sell.  The carrot cake was a gift from Kathleen Denny in my mini club.  I found the ice cream signs on the internet.  I covered the food prep counter and the ice cream counter with some silver scrapbooking paper that I found at Michael's and it matched the metal counter perfectly.  I also made a shelf for inside the counter that has plates, cups, mustard, pickles, and a couple loaves of bread on the counter.  Sorry you can't see them in the pictures.