I made this scene in a Red Hat giftbag as a prototype for a class I taught at the Gateway Miniature Fair Show & Sale in St. Louis in October 2006.  The wallpaper is little purple dots and I created the wallpaper border by scanning the hats, hatboxes and gloves on the bag and adding the purple trim.  The class will not include the furniture, doll, or accessories.

The armoire is from Bombay Furniture.  I made the everything in it except for the shoes, which are by Sylvia Rountree, and the cosmetic tray which was a swap some years ago.  The little red hats on the purse, scarf, and clothing are fingernail decals.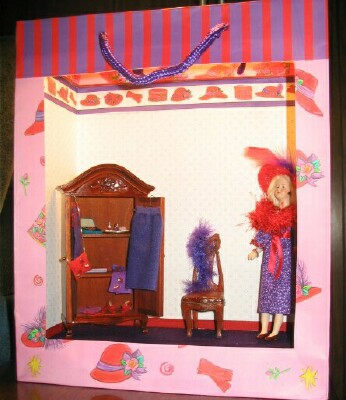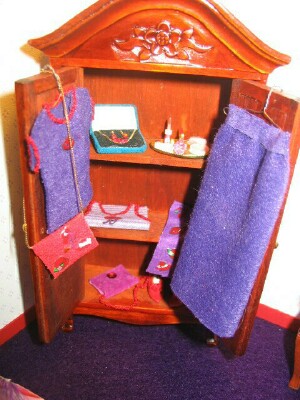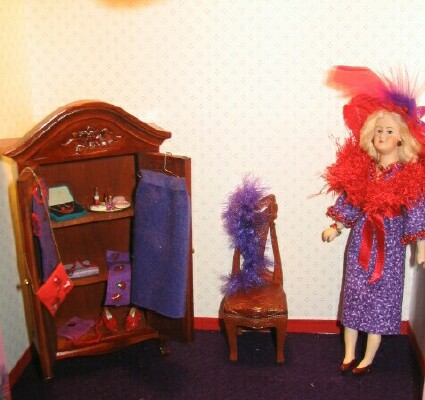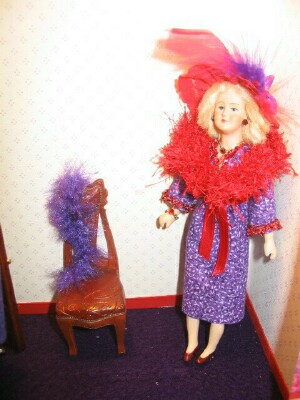 The chair is Take-A-Seat chair I've had for several years.  The boa on the chair is yarn I crocheted to make it a bit fuller.  I dressed the doll, added jewelry for her Red Hat Bling, fancied up the hat and used eyelash yarn for the red boa.  I also crocheted it to be fuller and then trimmed off the excess "eyelash."