At the same time that my husband and I created the Beauty Shop for my daughter, we created this Graphic Studio for my son.  My son, at that time, was doing traditional "cut and paste" graphics--hence the drafting table and tools.  The graphic on the drafting table is a miniature of one he created for a national Social Studies magazine cover--his interpretation of the Nina, Pinta, and Santa Maria.   He was just starting to do computer graphics, so we included a computer in his "studio."  The picture on the right shows the studio with the glass cover.  The sign and the tools are glued to the glass cover.  My husband made all the furniture.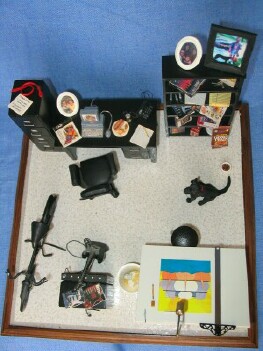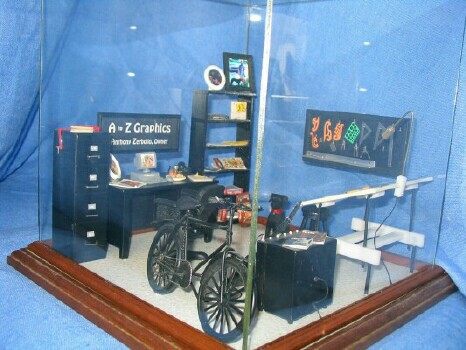 He enjoyed bike riding and so we adapted a bike Christmas ornament into a speed bike.  He also is a bass guitar player and he carved this little bass for me many years ago when he was a teenager.   I finished it to look like his guitar and made the amplifier.  There are guitar books on the amplifier.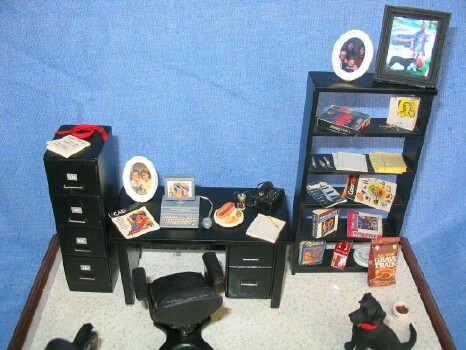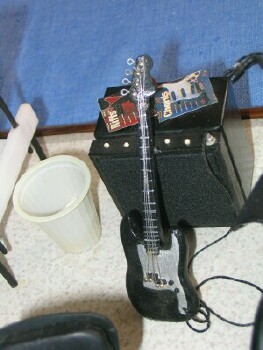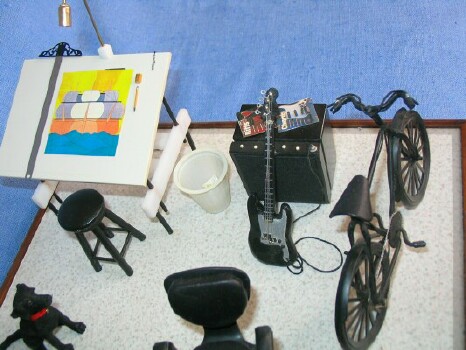 The pictures on the bookcase are a family picture of the four of us and one of him and his dog, Hershey.   The bookcase is full of computer books clipart books (some of them with pictures).

The picture on the desk is my son, daughter and their dog when they were teenagers.  The black dog represents Hershey.  His leash is hanging over the top of the filing cabinet.