Cherry Kitchen in Gift Bag

This is a prototype for a class I will teach at the April 2007 Gateway Miniature Fair Show & Sale in St. Louis.  The class is how to make the room insert for the bag and includes the wallpaper, flooring and trim.  The furniture is not included, but can be purchased separately.  I painted the furniture with cherries to continue the "cherry" theme.  The chairs came with the gingham seats.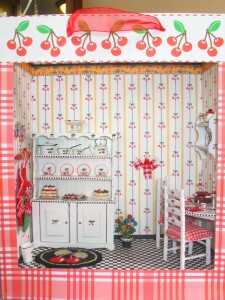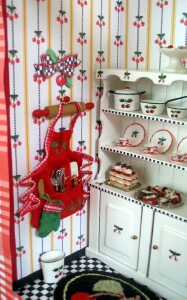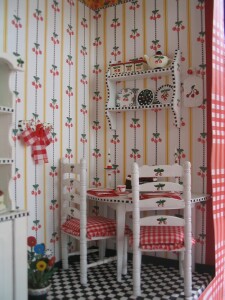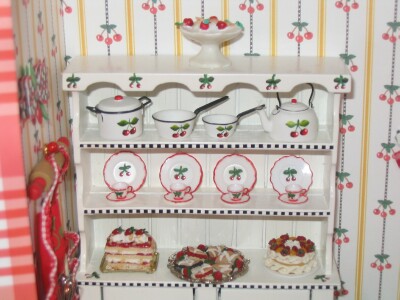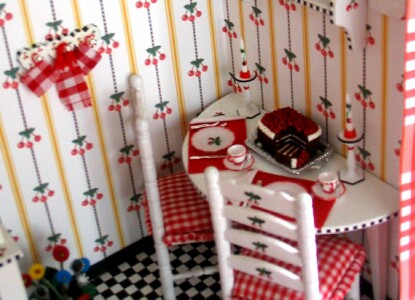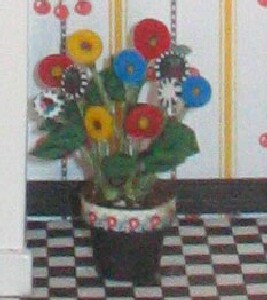 The cherry wallpaper was designed for the Mary Englebreit dollhouse, and the checkered paper flooring was by J. Hermes.

The cherry rug is a punchneedle rug made by Joanne Martin.  The apron hanging on the left wall was a 2006 Hallmark Christmas ornament.  The little ribbon do-dad above the ornament was a dimensional sticker I got at Michaels. 

The cherry compote on the top of the hutch, the cherry tea kettle and pots on the top shelf, and the candlesticks on the table I bought from T&D Miniatures at the St. Louis October 2006 show,  I painted the Chrysnbon dishes on the 2nd shelf.  The desserts on the first shelf were all purchased as various miniature shows.  I have a "thing" for cherry and strawberry desserts. 

The cherry/chocolate cake on the table, the potholders on the heart-shaped peg rack to the right of the hutch, the cherry breadboard to the right of the wall shelf, and the wastecan were gifts.  I painted the canister set, the teapot and the dishes on the wall shelf.

The flowers on the floor was a Round Table from a show in Denver, and the heart-shaped  peg rack was a totebag favor.