After I did the kitchen scene in the Toaster scrubby (to see this, go to Toaster Kitchen), I saw this cherry scrubby holder and thought it would make a "cute" 1/4" scale scene.  Following the cherry theme, I printed off the cherry wallpaper border, the checkered baseboard and green stripe wallpaper.  The wall had to be curved in order to follow the shape of the scrubby holder (tricky).  The green flooring is scrapbooking paper.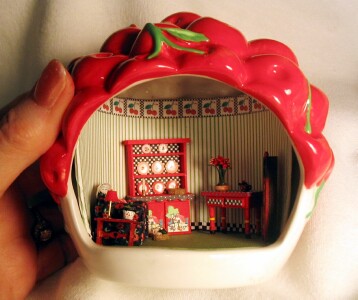 At the Kansas City "Pets On Parade" NAME special event in September, I found the hutch and table.  I added the plates made by Bonnie Soucek.  The floor basket with yarn, and the basket on the hutch were both from Judy & Bruce Stenke, as is the little teapot on the table, and the lamp on the small table.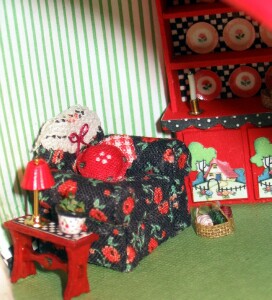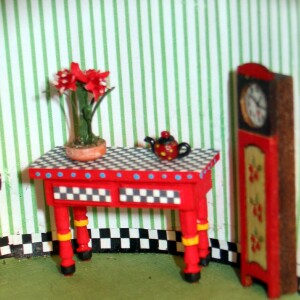 I made the candlestick on the hutch by using a jewelry finding and an electrical wire.  The flower on the table is a kit by Susan Karatjas.  I have that kit in all three scales, 1/4", 1/2" and 1" and it goes together rather easily.  The cherry clock is a kit by Bonnie Soucek.  I don't recall where I got the kit for the table next to the chair, but I believe it was a round table from a NAME Convention.  There is a little heart-shaped cutout in the support under the table top.  I painted the table red and put the checkerboard paper on the top. 

The darling chair and the cherry flower pot with the tiny red flower both came from Betty Turman in Kentucky.  I wound embroidery floss around a needle to make the balls of yarn for the floor basket.

I don't consider myself proficient in small scales, but I had fun putting together this little scene.

I added a little cherry rug and a Westie to the scrubby and here is a picture of it.