Christmas Cookies Roombox

Some years ago, my very special niece, Linda, sent me a box printed on the outside to look like a house and had a plastic front.  She thought I could use it for a miniature scene and it's been sitting in my "sometime" collection.

I also bought the Hallmark stove ornament when it came out thinking that it would be perfect for a Christmas kitchen scene.  I was SURE that Hallmark would be coming out with a refrigerator the next year,  but I was SURE wrong about that.  I decided to go ahead and put together a Christmas cookie baking scene using the Mickey, Minnie and Pluto ornaments, along with the stove.  I added a Christmas tree to finish this roombox.

So, the roombox from Linda and my ornaments came together to make this little Christmas Cookie roombox.   I made a foamcore insert for the walls and floor and used scrapbooking paper for wallpaper and flooring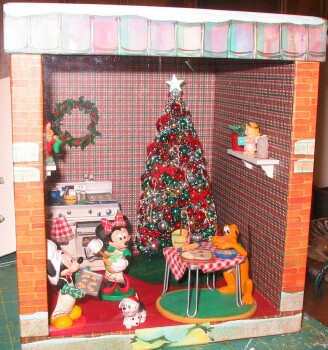 The stove has an oven light and the burner under the teapot glows red.  Since the stove is a tree ornament, it has to be connected to Christmas lights.  I used a string of 20 lights, cut a hole through the foamcore insert and the roombox to get the stove plug outside the roombox.  I connected the stove in the back of the box to the light closest to the plug and used the other 19 lights in the string to light the roombox.

I cut a piece of foamcore for the "ceiling" and cut holes for the 19 lights to come through the ceiling with the wires from the string of lights in the 3/4" space between the ceiling and the roombox lid.

Well, in 2007, Hallmark issued the Refrigerator!  Horray!.  So, I had to revise the roombox to include the refrigerator.  I had to take out the Christmas tree, repaper the floor and the left side and back wall (because I wanted to add the pot rack ornament over the stove) that I found at our museum's Garage Sale and remove the shelf on the left wall.  Fortunately, I had enough wallpaper and flooring left over.  I added the little Santa on top of the refrigerator to hide the hole where the ornament hanger was.  Now, the little Christmas Cookie Roombox is finished, once again.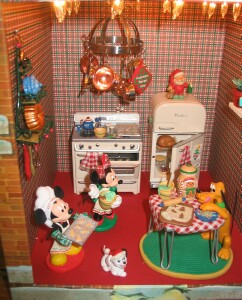 Then in 2012, they issued a special  collector's club ornament of a Christmas hutch.  It was so cute that I just had to buy it.  This meant another revision of the Christmas cookie roombox.  So, I took off the shelf, rewallpapered the wall, added the hutch and moved the table to the other side of the roombox.  This roombox has to be FINISHED now because there is no room in the roombox for anything else.  This room has nothing except Hallmark Ornaments in it now.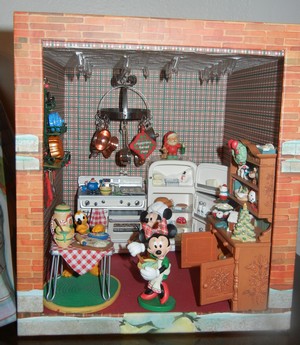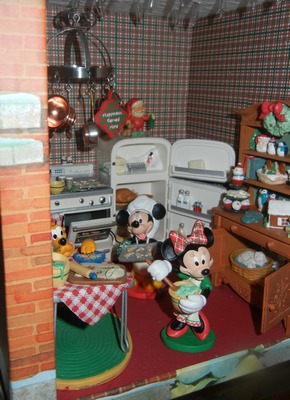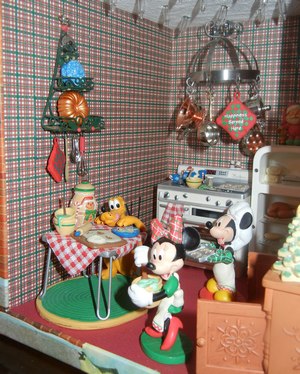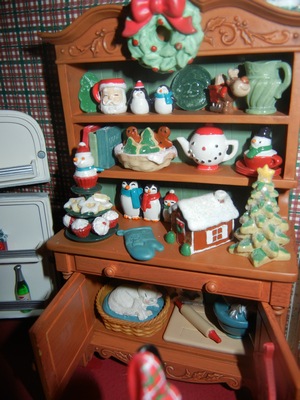 The cute Christmas hutch!!