When my son worked for Build-A-Bear and I made this little scene using the boxes in which the Build-A-Bear critter goes home.  I colored it using markers, and cut out one side of it for access.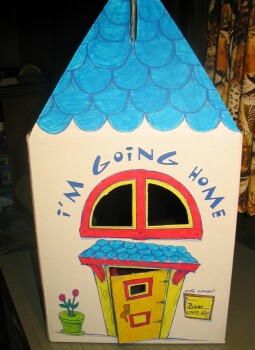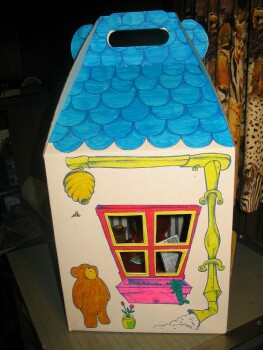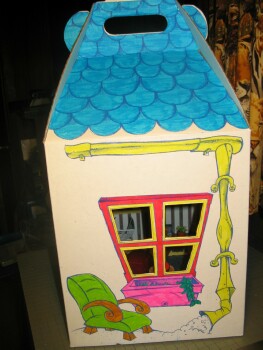 I found some wallpaper (visible in right photo) that had a bear border at the top.  I used yellow paper cut to shape for the trim around the windows, door, viewing window, and the baseboard.  I glued a piece of foamcore covered with paper flooring to the base for stability, and glued the top together once the interior decorating was finished.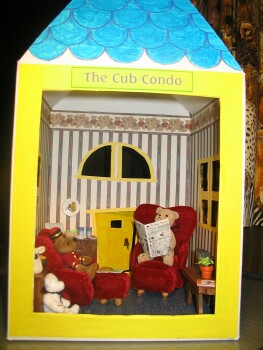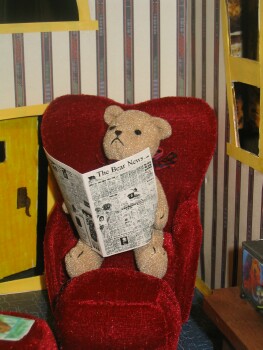 Since Build-A-Bear does not make mini bears, I had to substitute other bears to live in this Cub Condo.  The bear on the left is reading "The Bear News" newspaper, with the other bear is beginning to read the book, "The Bear In the Big Blue House."  The chairs the bears are relaxing in were bought at the Dollar Tree store a couple of years ago and just put in my "stash" of stuff.  Perfect for this project.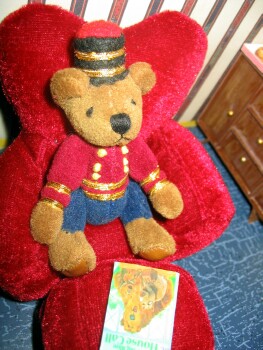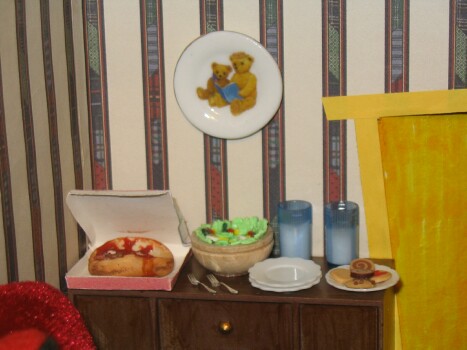 The chest on the back wall is set for their dinner of pizza, salad, milk, and a plate of cookies.

The decorative plate hanging on the wall was bought at the miniature show in Denver.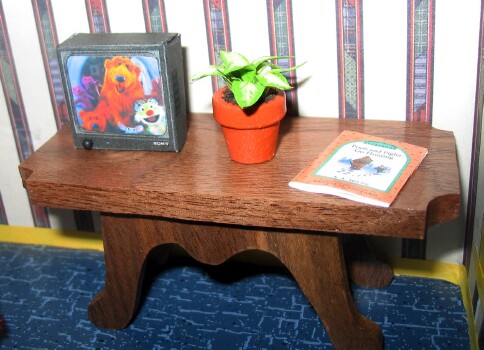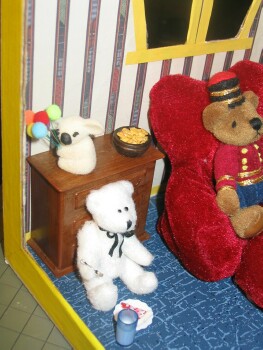 The little white bear is watching the Bear In the Big Blue House on the TV.  A Winnie The Pooh book is also on the TV table.  The white bear has his piece of pizza and glass of milk (notice the fork in his right hand).  There is a bowl of potato chips sitting on the chest next to the little koala bear holding balloons.

I'm sending this Cub Condo to the president of Build-A-Bear as a gift.  I'm hoping she will create a line of mini Build-A-Bears, and perhaps even a dollhouse and furniture for them.  What fun!