Laura's Baby, Shane's, Room In A Giftbag

I made this room in a demin-look giftbag for Laura's baby shower.  The window in the back wall shows the beach of South Beach where my daughter works and lived for many years.  They now live in Miami.  Shane was born October 27, 2008.  He was 7 lbs. 2 oz, and 19" long.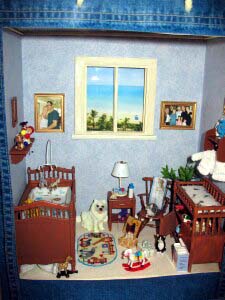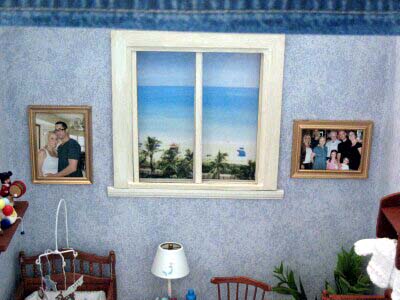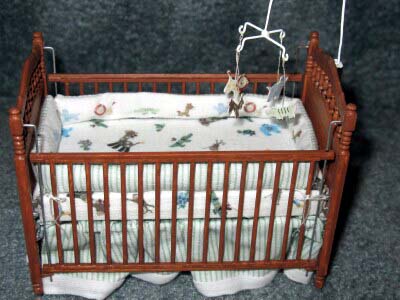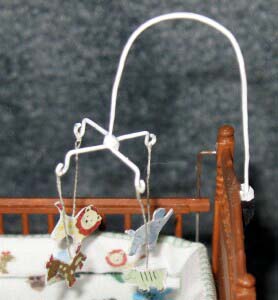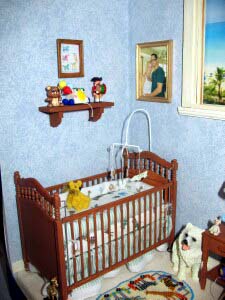 I dressed the crib using the designs of her safari bedding, and made the mobile using cutouts of the safari animals.  My husband made the mobile frame.

The little picture hanging above the crib is a reduced copy of the full-size wall hanging I made the for baby's room.  His baby picture hangs on the right wall above the shelf.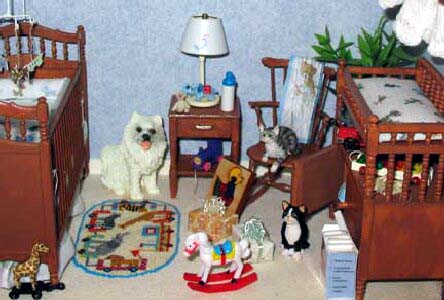 The dog represents my daughter's dog, Luna, and the cats represent her two cats, Violet and Mimi.  The quilt hanging on the back of the rocker is the quilt my sister made for her shower.  There are toys on the dressing table shelf (along with a pair a hand-knitted booties), on the table and table shelf and on the shelves hanging on the wall.  I petitpointed the rug on the floor.