On the Little Enough News online digest, there was a challenge to make this Beach Hut to honor the moderator of this digest, Pam Scott, from Fort Myers.  She began a digest on AOL many years ago and then moved to LEN.  She died and the followers decided to make this Beach Hut because she loved to go to Sanabel Island to collect seashells.  If you'd like to join this group of small-scale lovers, go to Little Enough News and sign up.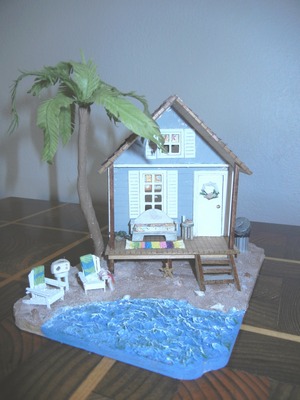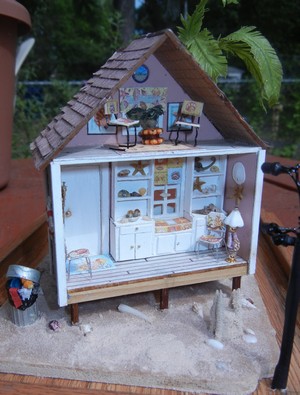 Several of us participated in a swap.  I included most of the swaps in my Beach Hut.  Lot of shells, sand, pictures, beach towels, the wreath on the front door, the clock, the chairs upstairs, garbage pail, the bench on the front step, the lamp, rugs, and the things I used for the pillow covers, chair seats, and shades, (notice the shell on the inside lower shade).  The chairs on the beach I got as kits from Preble.  The radio, the tote bag, the life preservers, and the sandcastle are from the swaps.  The palm tree and the water were instructions from the LEN website.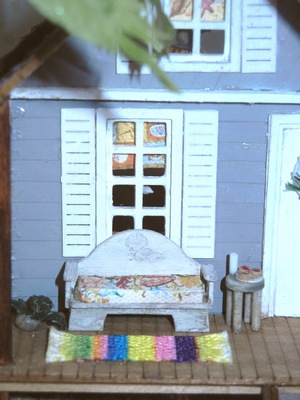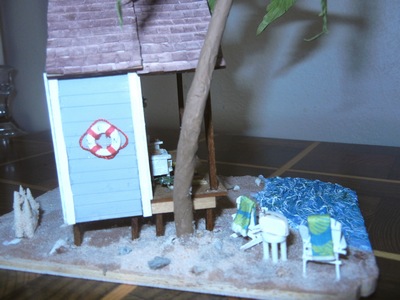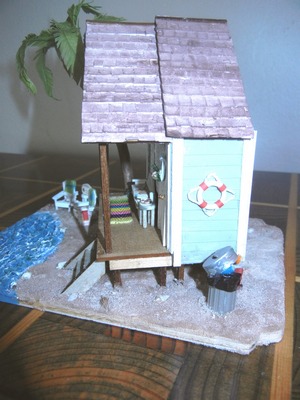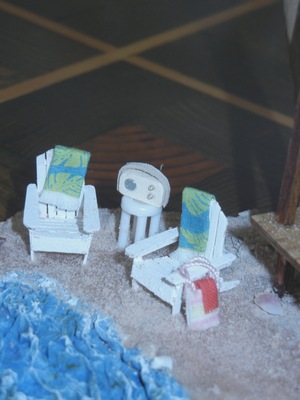 Years ago, I visited with Pam on my way to Miami to see my daughter.  While I was there, I went to Sanabel Island and got some tiny sea shells:  the wee sea horses, the sand dollars and the starfish that I placed on the shelves inside, and on the beach outside.  The strange looking thing sitting on the table on the second floor and on the porch is a plant that I made for the swap.  It is in a seashell.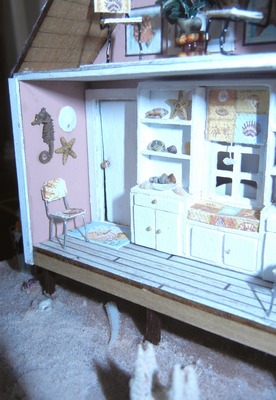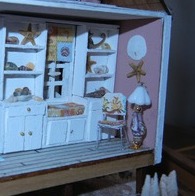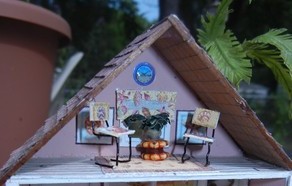 The display case that I put the little scene into was from Michael's many years ago.  My husband invented the wee spotlights to light up the scene.  He used LEDs and is a lighting magician.