Joanne (musem board President) and her husband, Bob, celebrated their 50th anniversary in January of 2006.  I made this memory bag for them. 

I couldn't find a nice giftbag for the Golden anniversary, so I decided on this one with white flowers, pearls and a silver border across the top.  Then I went on a search for some appropriate paper to the walls of the room.  I wasn't able to find anything I liked, so I ended up with silver stripe paper from a scrapbook store.  I put gold paper border across the top by cutting gift wrap paper with decorative scissors.  I also used the same gold paper for  baseboard trim across the bottom.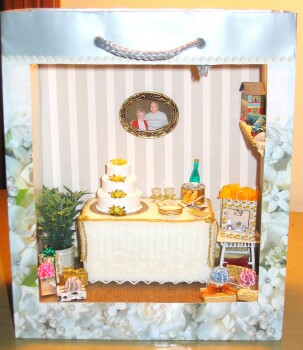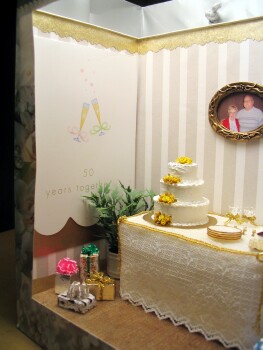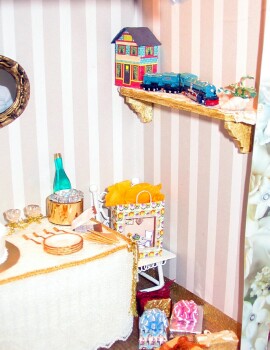 I put the invitation on the left wall of the room and little shelf on the right wall.  The dollhouse and the little bag on the chair are for Joanne's interest in miniatures.  The train on the shelf represents the many years of Bob's employment with Union Pacific railroad.  The little seashell planter is one that Joanne made as gifts for everyone at the museum dinner/auction last year.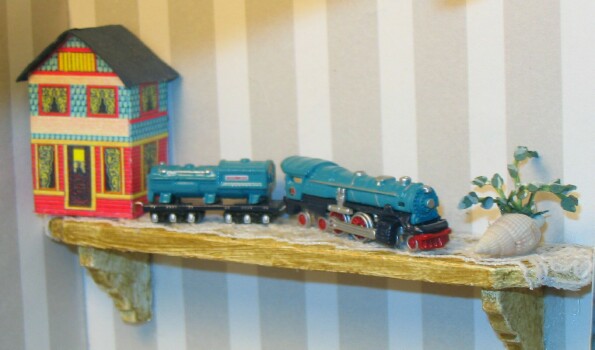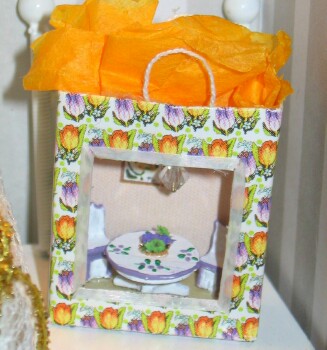 The closeup of the table shows the cake, champagne, glasses trimmed with a gold bow, the plates trimmed in gold, gold forks (Chrysnbon painted gold), gold napkins and the miniature of the invitation to the party.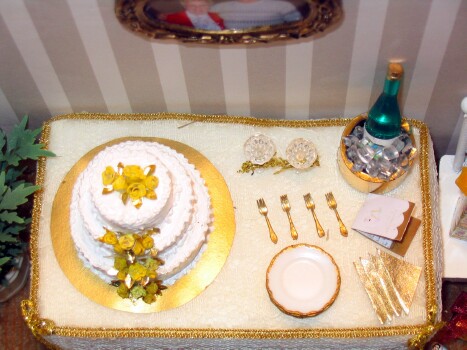 Amy & Bill Allen were married at the April 2005 miniature show.  Amy is a miniature dealer who participated at our show for several years and when they decided to marry, we invited them to have the wedding at our show.   They agreed and we decided this would be great fun to have the wedding as part of the dinner/auction.

A few of us decided to make them a wedding memory room in a gift bag.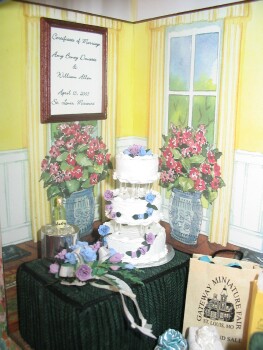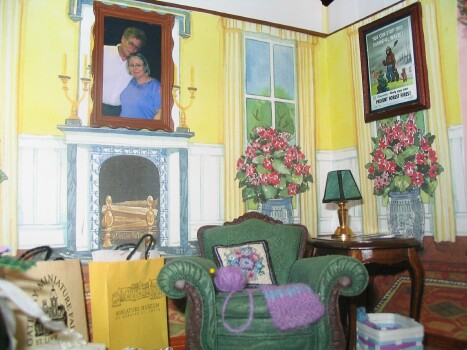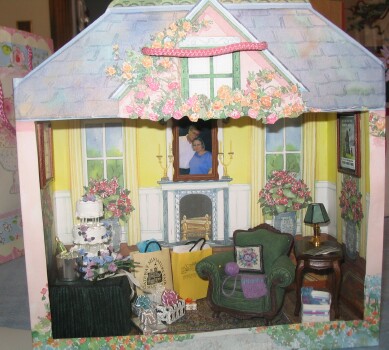 We used one of the gift bags shaped like a house and cut out the front of it to allow easier viewing.

The picture of Amy & Bill was taken the year before at the previous show.

Bill works for the Forest Service and the Smoky Bear poster on the right wall and the brochures on the table represent Bill. 

The knitting and the yarn represent Amy's miniature knitting.

The cake and flowers are duplicates of the ones in the "real" wedding.  The wedding certificate hangs over cake table.