This an overall picture of the dining room.  The carpet is a Lucy Iducovich pattern.  I adapted the pattern to cover the seats of the chairs and settee.  The photos over the tea cart are charms (for a bracelet) made from photos taken at Sears several years ago when our children were small. 

This picture shows the settee a little better.  The silver Aquisto bowl in the center of the dining room table was a gift at the National in Kansas City.  Another picture of the rug, chairs & settee is on the Stitching webpage.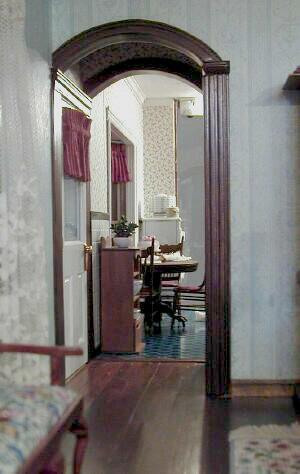 Looking from the dining room into the kitchen (before I changed the dining room rug and the settee upholstery). The back door is to the left and the stairs to the basement are on the right.  The jade plant on the cabinet in the kitchen was made by my friend, Mary Ellis.

The cranberry glass candlesticks were purchased from The Wild Orchid, Adel, IA.  The glass punch bowl is by Steve Murphy.  The "Hummel" figures are by Carol Pongracic.  The bowl on the right is by Jack Cashmere and has our initial "Z" in the middle of the bowl.

The Bespaq cabinet holds a collection of cranberry glass  glass pieces purchased from Wild Orchid in Adel, IA, and Tiny Treasures in Kimmswick, MO.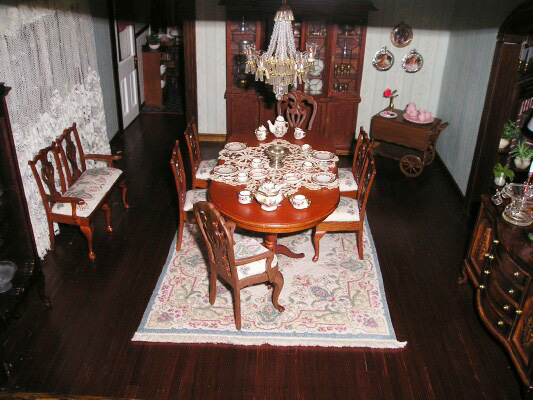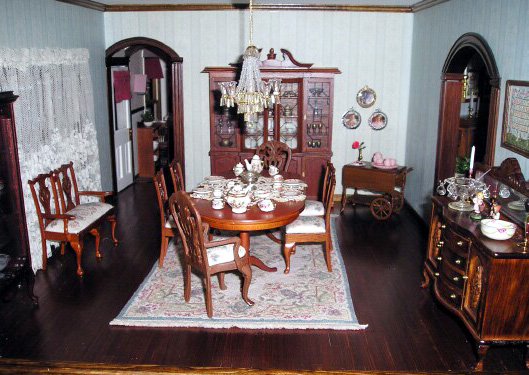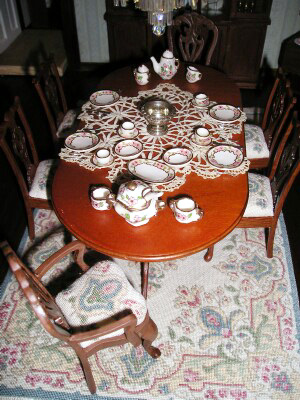 This picture shows a closeup of the table (china set I found at the miniatures "garage sale" sponsored by the Miniature Museum of Greater St. Louis.  Another picture just showing rug, chairs & settee is on the MiniStitching webpage.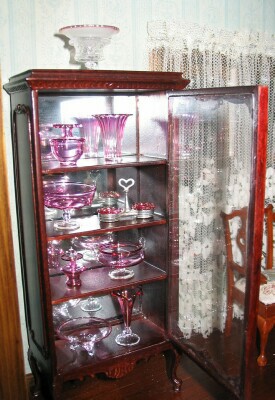 Since my cranberry glass collection keeps growing, I bought another cabinet that I put in the living room with some additional pieces (and other glass sculptures).  I had to remove the small shelf unit from the living room to make room for the new cabinet .  The changes are shown below in the picture taken in July 2004.  The small shelf unit is now in the corner of the dining room by the back door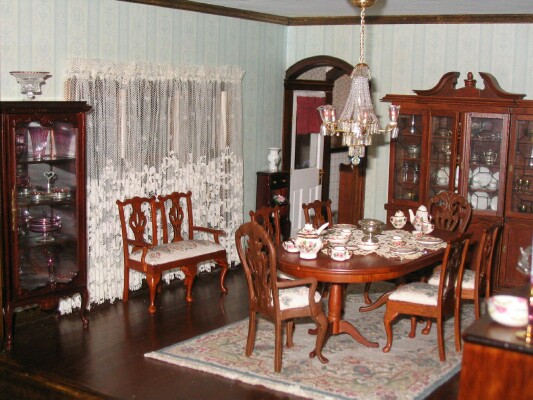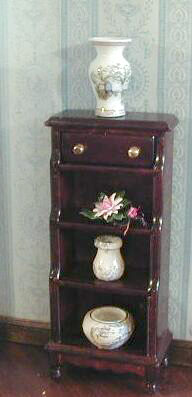 The two pieces on the bottom shelves are talc turnings I bought from Designs by Dann.  The small rose was a gift from a friend, Mary Ellis, who specializes in florals using Fimo.  I bought the vase from a dealer and don't know the artist.