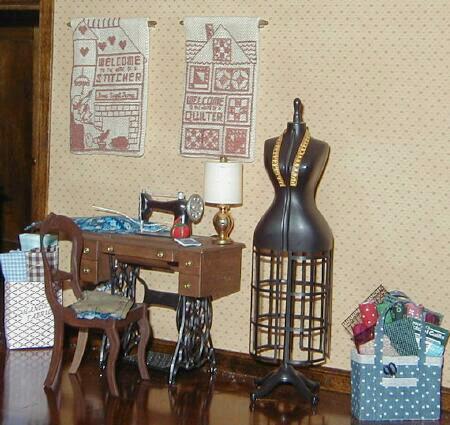 Overall view of the sewing room.  I made the quilting rack and the quilt even has a threaded needed waiting for the quilter to return to her project.  The rug is a chart from Janet Pataca.  The color in this picture is off, it isn't this orange.  The other pictures are taken before I had finished the rug.  The little plaque hanging to the left of the bookshelf was a gift from Sue Utley in Connecticut and has tiny, tiny buttons actually sewn onto the display board.  The cabinet holding the sewing supplies by built by my husband.

The picture on the left shows the cross-stitch quilt made from a kit from Miss Jeanne's Miniatures and a quilter's tote bag made by Mary Ellis.  The picture on the right shows the sewing machine and manniquin from a Chrysnbon kit.  The quilter's bag was completed in Sylvia Hansen's quilt class at National in Kansas City.  It even has  quilter's templates.  There is a dress in the process of being sewn on the machine.  The wall hangings were adapted from full size cross-stitched patterns and stitched on 40 count linen.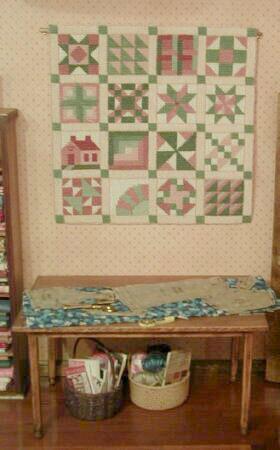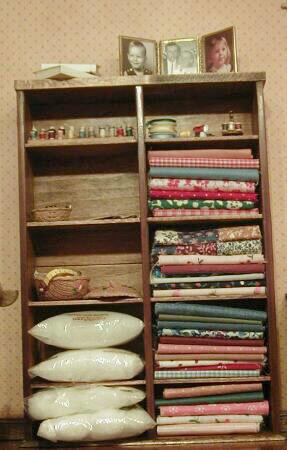 The sewing table has a dress pattern ready to cut out.  Notice the rotary cutter on the table.  The baskets under the table hold yarn and magazines.  Mary Ellis wove the basket on the left. The cross-stitched quilt on the wall is a June Grigg pattern.

My husband built the bookcase to hold all the quilting and sewing supplies.    The pictures on top are our son and daughter and our wedding picture.  The first shelf on left has a thread holder filled with spools of thread and there is a round thread holder on the right top shelf.    The baskets hold sewing supplies and buttons.