This is an overall view of the solarium.  I made the wicker furniture from OmniArts kits.  The wire wicker planter/birdcage was a gift from our friends, Marieann & Gordon, whose family pictures are in the hall.  See the picture below for new rug I stitched under the round table and the pillow on the wicker couch.  I made the bonzai on the table.  The hanging fern in the window was made by Mary Ellis, and the fushia was made by Jo Old, as are the flowers under the fushia.  I made the sampler oer the couch, the rug, and the pillows in this room.

The etched glass doors leading to the hall.  The three cactus on the square table were gifts from Mary Ellis.

I made the calla lilies in wire wicker planter and the plant in the round corner planter.  The plants in corner behind the chair were gifts from Marian Oborsh.  My husband made each individual window.  They actually raise and lower.  I got lazy and didn't put the little metal strip in the lower windows so they won't stay up.  But, the people who live here always have the air conditioning or heat on.  The Westie pillow I adapted from a real life pillow.




Close up of rug stitched on silk gauze

for this room, pattern by Janet Patacca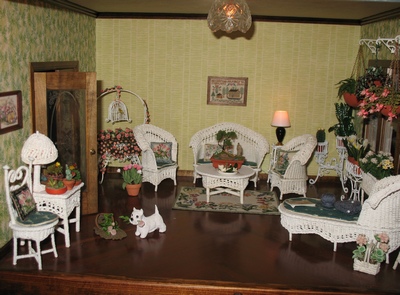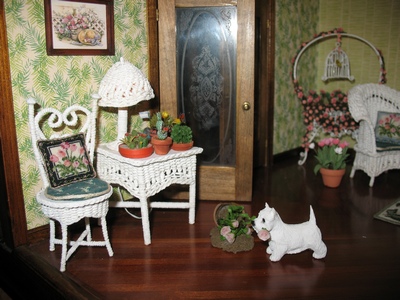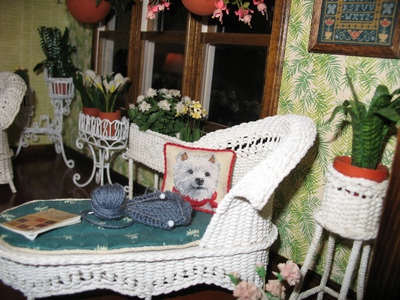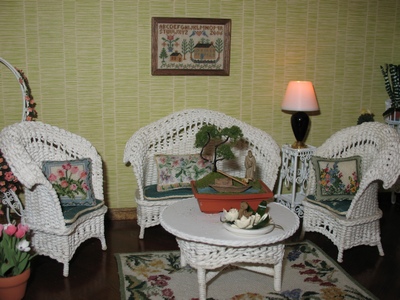 The tulip pillows were from a pattern by Bobbie Schoonmaker and the pillow on the right chair was made from a pattern by Missy Bolen.  I made the bonzai tree scene.  There is a little mud man and a junk in this scene.  The mudman and the flowers in front of the bonzai was a class from Sandra Manring.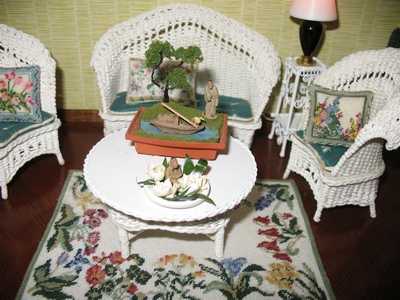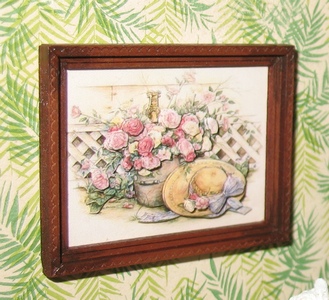 Close up of picture hanging over the chair on the left wall.