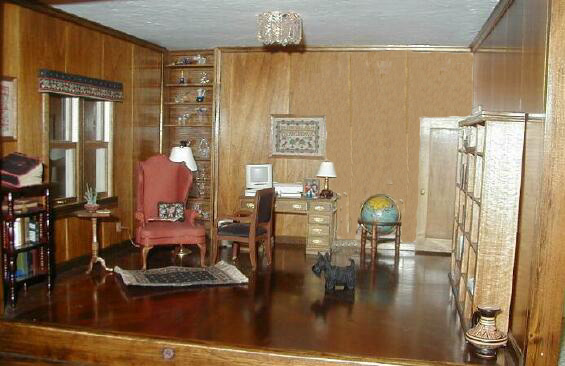 This is an overall view of the study.  The Scottie represents a Scottie, Penney, that we owned for 10 years during the building of our dollhouse.  The desk and the wingback chair were classes taught by Linda Weber.  I brought the desk home in little pieces in a plastic bag and my husband put it together for me.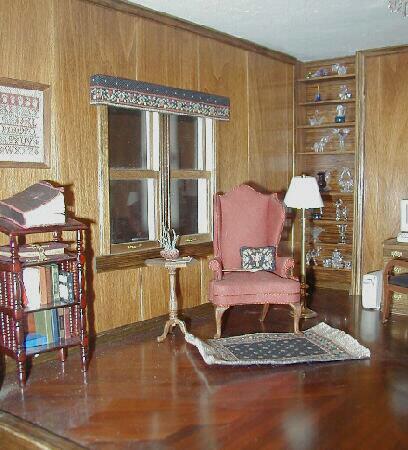 The sampler on the left wall was a kit from Miss Jeanne's Miniatures.  The bible on the bookcase was purchased at the Illinois State Fair over 50 years ago.  It is readable and saved from my childhood treasures.   Thie aloe vera plant on the small table was made by my friend, Mary Ellis.  The pillow on the chair was a kit by Sharon Garmize.  The rug was stitched using a pattern in Nutshell News and I adapted the pattern for the valance.  Both the rug and valance were made to match the pillow.  Behind the chair you can see more of my glass collection.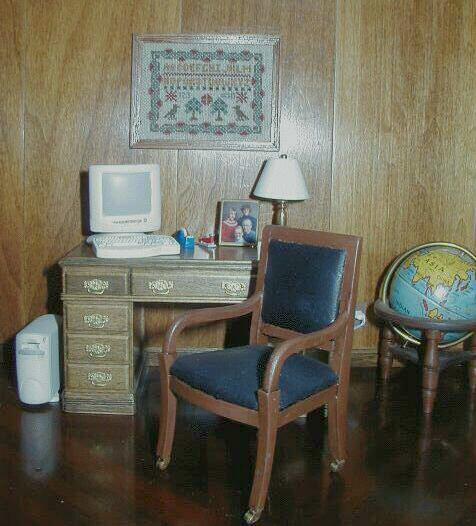 The sampler above the desk was a kit from Miss Jeanne's Miniatures.  The picture is  our family when the children were teenagers.  The globe was a door prize from the Gateway Miniature Show in St. Louis.

My husband built the bookcases and carved the little figure on the 2nd shelf from left , 2nd from the bottom.  The 3 books on the 2nd shelf of the left bookcase are readable fairy books by Callie Brunelli & Pam Scott.  The book on the right bookcase, 2nd from the bottom is a readable book on lace by Pam Scott.  The rose on the 2rd shelf, 3rd from left, was a gift from Mary Ellis.  The pewter and brass figurines were collected through the years.  The urn on the floor to the right of the bookcases is a gift from Greece from my friend, Linda Rollins.