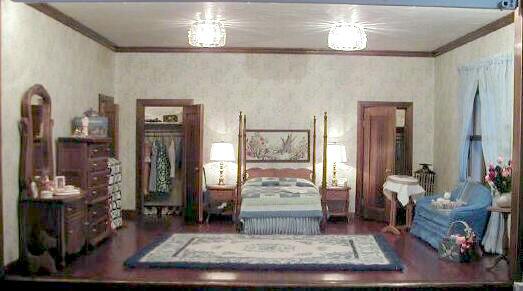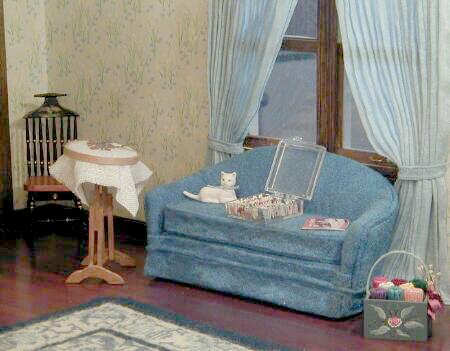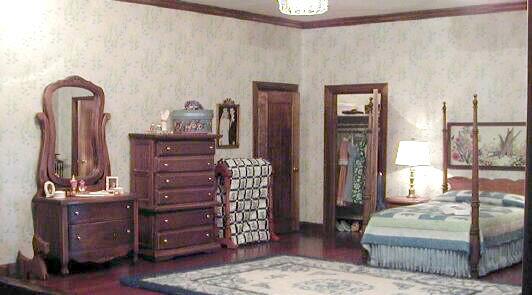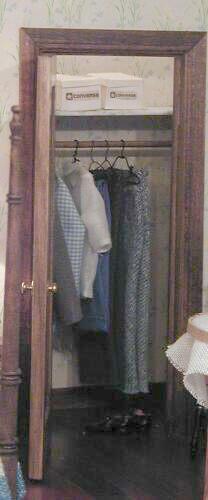 This is an overall view of the master bedroom.  The quilt on the bed was my first cross stitch project and made to duplicate a quilt I made for our bed.  The picture over the bed is a picture of a forest scene that I embroidered and is hanging over our bed.  The rug was a needlepoint kit to represent a similar one hooked by my father-in-law and is in our bedroom.  I made the drapes in this room and the clothes in the closets.  There is lady's underwear in the dresser and  men's underwear in the chest.  (I can't help it, I'm compulsive.)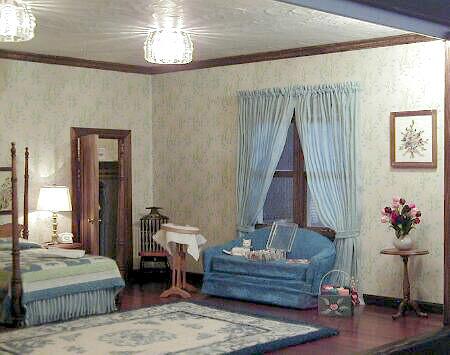 The quilt on the quilt rack was a gift from Stephanie Stith and the picture above it is our wedding picture.  The Scottie carving on the floor to the left of the dresser was carved by my husband to resemble one we have in our "real" house.

The couch was a kit I made many years ago.  The stitching on the wall was a pattern from Nutshell News and the tulips were made by Jo Old, Jo's Miniatures (close up below).

The cross-stitch in progress is in a frame made in a class taught by Sharon Zerkel at the Gateway Miniature Fair in St. Louis.  The class included a quilt, but I made the cross-stitch instead.  The plastic box contains tiny bobbins of embroidery floss I wound on 1/4" bobbins cut from cardstock.  The yarn in the basket was a gift from Chris Roberts, Roberts' Miniville.

In July of 2004, I finished a jewelry armoire that I bought from Deb Laue and made the jewelry.  I added it to the bedroom and had to rearrange a bit to make room.  Here are two pictures showing the piece and where I placed it in the bedroom.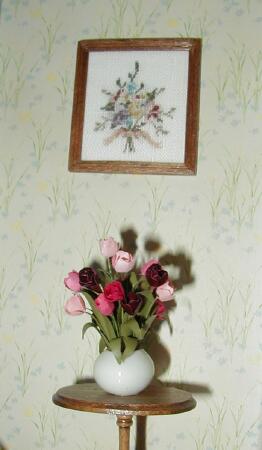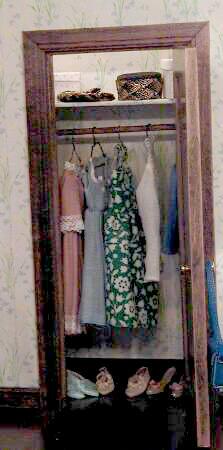 I made the clothes in the closets.  The two pairs of lady's shoes in her closet and the black shoes in the man's closet are by The Doll's Cobbler.  The tan lady's shoes on the right were a gift from Judy Campanella.  The hat and purse on the shelf in the lady's closet were an AOL swap.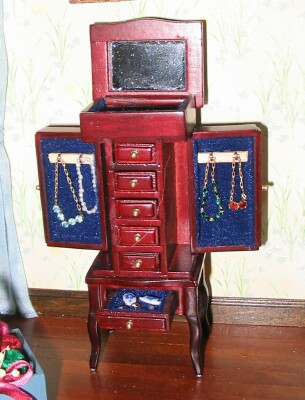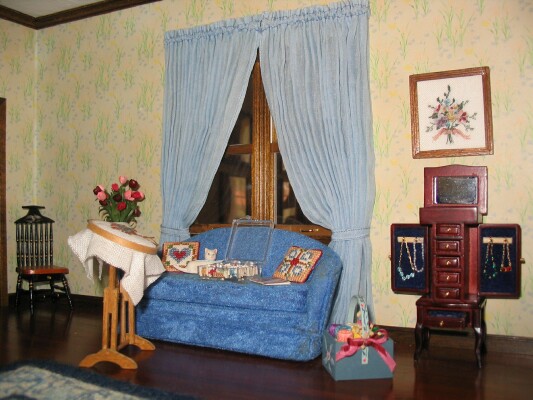 In fall of 2008, on Petitpointers internet group, Larry Marshall made a bunch of "caskets" for the stitchers who wanted to stitch the petitpoint pieces to go on it.  I finished my casket in November and placed it on the dresser.  Here is a picture of it in place.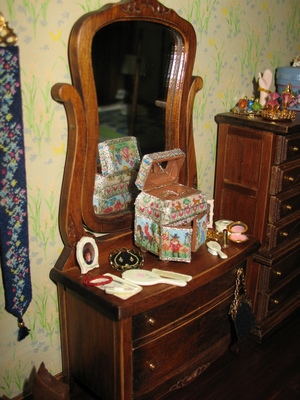 If you'd like to see close-up pictures of the casket, go to Mini Stitching, and scroll down.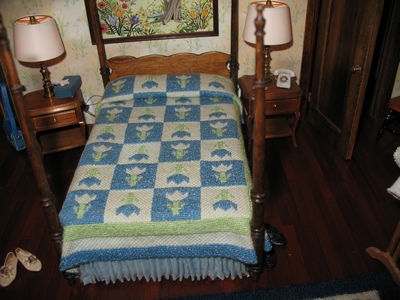 This is the first miniature piece of cross stitch that I did.  I designed it to look similar to a full-size quilt that I did for our real bedroom.